Travel Guides | Pursat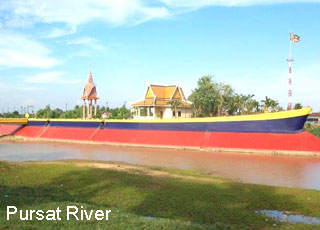 Transportations
Phnom Pich Hotel: (tel: 052/951515)
This hotel is about 200m North from the main bridge on the westbank of the river. The smart and modern hotel offers clean and very spacious room equipped with Western bathroom, satellite TV and air-con. The attached restaurant has a very good reputation in town. The prices range from US$6-15.
Vimean Sourkear Hotel: (tel: 052/951466)
The pretty old looking hotel from the outside shows another face inside with air-con rooms and hot water. It's probably the cheapest hotel with air-con in town.
New Tounsour Hotel: (tel: 052/951506)
This hotel is long-running by friendly people and offers quite the same standard as the Phnom Pich Hotel. Clean and very spacious room equipped with Western bathroom, satellite TV and air-con. Don't wonder about the kitschy dcor it's just a Khmer update. Prices from US$5-10.
These next two places have similar good locations, close to the river and market:
Thmar Keo Guesthouse:
There is a nice outdoor terrace here. The best bet is the fan room with a Western bath and single bed for US$ 5. An a/c room goes for US$ 10.
Hotel T'mei:
Next to the Hotel Vimean Sourkey, this hotel was still under construction when we were in the area. Looks like it will be the best spot in town when it's finished. Who said Pursat wasn't booming
These two places are near each other and just off National Highway No 5:
Hotel Orchidee:
A very friendly place run by a mother-daughter team. There is a common living room, TV area on the second floor that has some nice Khmer artwork on display. Rooms with a Western bath, h./w shower and two beds go for US$ 7 with fan, and US$ 10 for turning on the a./c.
Hotel Than Sour:
It?s probably a step up from the Orchidee, and is a friendly place as well. Nice rooms with TV, Western bath and fan go for US$ 5, a/c for US$ 10.

CAN I BOOK BUS TICKETS IN CAMBODIA BY ONLINE - YES
Thanks to the emergence of Cambotickets you can book bus tickets in Cambodia via online. Cambotickets is a price finder gives you the option of different schedules and rates of all major bus companies operating in Cambodia. Thanks to this comparison you can choose from several options and pay as you see fit. The best thing is that payments can be made by Credit Card without any problems and with only 1 usd administration costs.
As you see, it will be that easy now to book your tickets. For more information on how to book bus tickets in Cambodia we leave the following list of all connections between the main destinations in Cambodia and possible connections to both Thailand, Laos and Vietnam.
MAIN ROUTES FOR NATIONAL BUS
BUS FROM PHOM PENH TO ..
The capital is one of the main destinations that are in Cambodia . In the following list you can know the schedules and prices to go to Phnom Penh or to go from Phnom Penh to any of the destinations.
BUS FROM SIEM REAP TO ...
Would you like Siem Reap and the historic ruins of Angkor Wat ? The following list will have all the information to know how togo to Siem Reap or to know to go from any destination in Cambodia.
BUS FROM SIHANOUVILLE TO ...
Other major destinations there on a trip to Cambodia is certainly Sihanoukville. In the following list you'll know how to get to know the city and as then go to any other destination.
MAIN ROUTES FOR INTERNATIONAL BUS:
You can also make reservations from Cambodia to destinations in Thailand, Vietnam or Laos. The following list will have all the information to know how to go from Siem Reap to Thailand or Laos and from Phnom Penh to Thailand or Vietnam .
Related Article