Travel Guides | Phnom Penh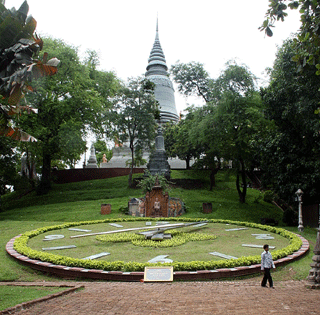 Transportations
Phom Penh can be reached by either domestic flights, international flights or overland and speedboat from neighbouring provinces. Phnom Penh is a fairly easy city to get around. Though traffic is getting more congested these days, you can still travel the length of the city in less than 40 minutes. Regarding the economical boom these days, the traffic increases significantly.
Phnom Penh International Airport:
On arrival, taxis and motorcycle taxis (motodups) can be hired just outside the arrival lobby. There are no meter taxis (just developing this service). Taxis cost $7.00 for the 20-30 minute ride into the city centre. Cheaper, slower and less comfortable, motorcycle taxis can be hired for $2.00 into town. A usual taxi to the airport from town costs about $5-$7. Allow a minimum of 30-40 minutes to get to the airport, as you might get into some traffic jams during the rush hour.
Port of Phnom Penh:
The ferry port in Phnom Penh is on Sisowath Quay (the riverfront road) at Street 104, just north of the main riverfront park/restaurant area. If you are arriving in Phnom Penh, there are always motor taxis and car taxis waiting for fares. Motorcycle taxis run about R1500-R3000 and car taxis about $3-$5 to downtown hotels.
Cars and Taxis:
More common are un-metered, unmarked taxis, which can be arranged through your hotel or travel agent, and can also be found outside hotels along the Monivong Blvd. near Kampuchea Krom. A car plus driver costs you $20-$30/day. Shorter jaunts, for a minimum of $2-$3. 4WD vehicles will give you a ride for $60/day and up.
Short and long term rental of a wide variety of vehicles:
Motorcycle Taxis (Motodup):
The omnipresent motos are the most common and fastest form of public transportation but are certainly not the safest. They are more prone to accidents and robberies than cars. Motos cost from 1000R-4000R for a trip in town and $6-$10 per day. Prices go surely up at night.
Bicycle Rental:
A few guesthouses, (e.g. Capitol Guesthouse) have bicycles for rent for around $1-1.5/day. Bicycle stores are clustered near the intersection of Streets 182 and 107. They do not rent bikes, but a used bike can be bought for about $30-40 and resold for around $20.
Motorcycle Rental:
Motorcycles (100cc - 125cc) can be rented for $3 - $5/day. Tourists often rent 250cc dirt bikes, even if it's a bit too much power and weight for the slow city traffic (250cc for $10-13). For in-city driving, a 100cc is recommended. A 250cc is perfect for the poor roads outside Phnom Penh. Chaotic traffic makes cycling in the city challenging in the extreme. Roads outside the city vary dramatically in condition. If you do decide to ride, drive slowly, stay right, wear a helmet and remember that medical services are quite limited.
Buses:
Ho Wah Genting offers bus service to nearby destinations using modern air-conditioned buses. Get off or on at any point along the line. Buses depart every 15 minutes to one hour, daily from 6am-6pm. 1200R-12000R. The station is at the corner of the Central Market. Route #1: Koki, Kien Svay, Neak Luong, And Route #2: Takhmao, Takeo, And Route #4: Kampong Speu, Sihanoukville, And Route #5: Oudong, Kampong Chhnang, Route #6: Raw Kakong, Kampong Cham. Also near the central market (Southwest corner) you may find the biggest bus station in town. Sorya Bus Company takes you almost everywhere in the country where a paved road is available. The buses are a little bit older than from some other companies, but still featuring air-con and usual seats. The prices are reasonable (approx. $1 for 70-80km).
Cyclos:
The humble cyclo can be a romantic and practical form of transport though not as safe as a car or fast as a motor. Cyclos are easier than motors and during a rain they offer a drier ride. They often charge twice as much as a motos and are notorious for overcharging tourists, but keep in mind that?s physical work.

CAN I BOOK BUS TICKETS IN CAMBODIA BY ONLINE - YES
Thanks to the emergence of Cambotickets you can book bus tickets in Cambodia via online. Cambotickets is a price finder gives you the option of different schedules and rates of all major bus companies operating in Cambodia. Thanks to this comparison you can choose from several options and pay as you see fit. The best thing is that payments can be made by Credit Card without any problems and with only 1 usd administration costs.
As you see, it will be that easy now to book your tickets. For more information on how to book bus tickets in Cambodia we leave the following list of all connections between the main destinations in Cambodia and possible connections to both Thailand, Laos and Vietnam.
MAIN ROUTES FOR NATIONAL BUS
BUS FROM PHOM PENH TO ..
The capital is one of the main destinations that are in Cambodia . In the following list you can know the schedules and prices to go to Phnom Penh or to go from Phnom Penh to any of the destinations.
BUS FROM SIEM REAP TO ...
Would you like Siem Reap and the historic ruins of Angkor Wat ? The following list will have all the information to know how togo to Siem Reap or to know to go from any destination in Cambodia.
BUS FROM SIHANOUVILLE TO ...
Other major destinations there on a trip to Cambodia is certainly Sihanoukville. In the following list you'll know how to get to know the city and as then go to any other destination.
MAIN ROUTES FOR INTERNATIONAL BUS:
You can also make reservations from Cambodia to destinations in Thailand, Vietnam or Laos. The following list will have all the information to know how to go from Siem Reap to Thailand or Laos and from Phnom Penh to Thailand or Vietnam .
Related Article