Travel Guides | Pailin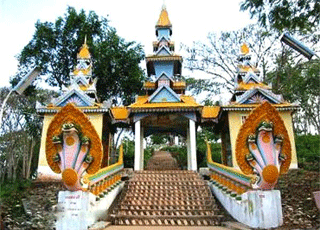 Transportations
Minibus/Share Taxis:
For getting from Phnom Penh to Pailin please have a look on the Battambang Province Page. Coming from Battambang is the only wise thing to do, except if you're coming from Thailand over the international border crossing. Pailin itself lies about 83km southwest of Battambang and is just 19km from the border with Thailand. The Major Road 57 from Battambang to Pailin has gone to pieces and makes it a pretty hard ride. The road can only be managed by smaller lighter cars such as minibuses, pick ups or share taxis due to its wimpy condition, but its still better than it was a couple of years ago, with many new bridges. The scenery along the road heading to Pailin is nice and there are a couple of interesting places on the way. One is Phnom Sampeu, a mountaintop temple, which has memorials set up with skulls and bones of Khmer Rouge victims. It's located 15 km from Battambang on the Pailin road. Security is not a problem. Never go off the street as there are many mines still remaining in the ground. The ride from Battambang to Pailin (4hours) with a share taxi or minibus costs around 160Baht and with a pick up 120Baht (inside) or 80Baht (on the back).
Pailin to Koh Kong
It's now possible to make a journey from Pailin to Koh Kong through the scenic Cardamom Mountains of Pursat and Koh Kong provinces. This route takes in areas that are considered to be the most pristine and untouched in all of Southeast Asia. Ask the pick up drivers.
Cambodia-Thailand international border crossing:
The Cambodia-Thailand border crossing is just 19km west of Pailin town. It's supposed to be a full-service crossing issuing tourist and business visas. Crossings however, can sometimes take its time while the border officers try to ask you for more money for the visa issue. The border opens daily between 7am and 8pm. To get from Pailin to the border crossing take a moto (50-100Baht) or a share taxi (40Baht). Don't wonder about the two big casinos there, where mostly Thai people try to chase their luck. There is also a small market if you need something.
Motorbike Info:
There is also a breathtaking tour from Pailin to Krong Koh Kong (South) for hardcore bikers with plenty of off-road experience. It starts in the Treng district, just 25km East on the road to Battambang. Than it runs down South through former Khmer Rouge strongholds such as Samlot and Veal Veng, which is 275km from Pailin and the last place to refuel. Good luck!

CAN I BOOK BUS TICKETS IN CAMBODIA BY ONLINE - YES
Thanks to the emergence of Cambotickets you can book bus tickets in Cambodia via online. Cambotickets is a price finder gives you the option of different schedules and rates of all major bus companies operating in Cambodia. Thanks to this comparison you can choose from several options and pay as you see fit. The best thing is that payments can be made by Credit Card without any problems and with only 1 usd administration costs.
As you see, it will be that easy now to book your tickets. For more information on how to book bus tickets in Cambodia we leave the following list of all connections between the main destinations in Cambodia and possible connections to both Thailand, Laos and Vietnam.
MAIN ROUTES FOR NATIONAL BUS
BUS FROM PHOM PENH TO ..
The capital is one of the main destinations that are in Cambodia . In the following list you can know the schedules and prices to go to Phnom Penh or to go from Phnom Penh to any of the destinations.
BUS FROM SIEM REAP TO ...
Would you like Siem Reap and the historic ruins of Angkor Wat ? The following list will have all the information to know how togo to Siem Reap or to know to go from any destination in Cambodia.
BUS FROM SIHANOUVILLE TO ...
Other major destinations there on a trip to Cambodia is certainly Sihanoukville. In the following list you'll know how to get to know the city and as then go to any other destination.
MAIN ROUTES FOR INTERNATIONAL BUS:
You can also make reservations from Cambodia to destinations in Thailand, Vietnam or Laos. The following list will have all the information to know how to go from Siem Reap to Thailand or Laos and from Phnom Penh to Thailand or Vietnam .
Related Article