Travel Guides | Kandal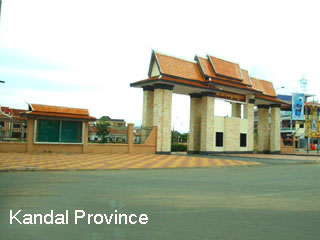 Transportations
Bus (general information):

As the Kandal province is very closed to Phnom Penh there is several options to go there depending in which direction you would like to go. Irrespective where you would like to go you?ll find a vehicle at the central bus station southwest from the Central Market. Many buses go to the other provinces so they always have to pass Kandal province. If you would like to go to the provincial capital Ta Khmau there is Sorya buses going to the provincial capital of Takeo every day at 7am, 8am, 12am and 1pm. It shouldn't cost you more than US$0.5-1. Share Taxis:

Lots of share taxis leave unscheduled every day to Ta Khmau opposite from the central bus station. The prices are around US$1-2. Motorbike Info:

Almost every Highway around Phnom Penh is in best condition, so no worries. Riding your motorbike to Ta Khmau you have to take National Highway No 2 to the South. If you would like to hit the road to the North you have to take the National Highways No 4 or 5, depending on your destination.

CAN I BOOK BUS TICKETS IN CAMBODIA BY ONLINE - YES
Thanks to the emergence of Cambotickets you can book bus tickets in Cambodia via online. Cambotickets is a price finder gives you the option of different schedules and rates of all major bus companies operating in Cambodia. Thanks to this comparison you can choose from several options and pay as you see fit. The best thing is that payments can be made by Credit Card without any problems and with only 1 usd administration costs.
As you see, it will be that easy now to book your tickets. For more information on how to book bus tickets in Cambodia we leave the following list of all connections between the main destinations in Cambodia and possible connections to both Thailand, Laos and Vietnam.
MAIN ROUTES FOR NATIONAL BUS
BUS FROM PHOM PENH TO ..
The capital is one of the main destinations that are in Cambodia . In the following list you can know the schedules and prices to go to Phnom Penh or to go from Phnom Penh to any of the destinations.
BUS FROM SIEM REAP TO ...
Would you like Siem Reap and the historic ruins of Angkor Wat ? The following list will have all the information to know how togo to Siem Reap or to know to go from any destination in Cambodia.
BUS FROM SIHANOUVILLE TO ...
Other major destinations there on a trip to Cambodia is certainly Sihanoukville. In the following list you'll know how to get to know the city and as then go to any other destination.
MAIN ROUTES FOR INTERNATIONAL BUS:
You can also make reservations from Cambodia to destinations in Thailand, Vietnam or Laos. The following list will have all the information to know how to go from Siem Reap to Thailand or Laos and from Phnom Penh to Thailand or Vietnam .
Related Article