Travel Guides | Kampot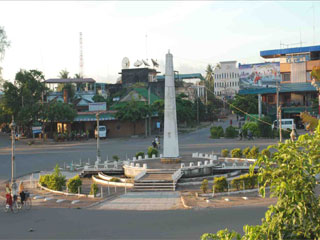 Where to Eat and Drink
Little Garden Bar: (tel: 012-256901)
This Restaurant has an open-air garden style and is situated on the riverfront one block north of the bridge. You'll find a good selection of western and Khmer food. There are lots of sandwiches and daily specials on the board. Try the popular Pork Volcano; check out our daily specials from prime Australian rib eye filet to roast Lamb with mint sauce. We also have a number of vegetarian dishes as well as nice fish dishes. It's a perfect spot to enjoy the sunset whilst sipping your favourite cocktail. They also give you information on the Kampot area and local volunteer opportunities. Epic Arts Caf: (tel: 011-376968)andnbsp; That is a project providing small restaurant to the deaf and disabled communities. Teas, cakes, fruit shakes, lunch and snacks available. Lucky Food
andnbsp;
Restaurant and Bar: (tel: 012-806105)
You can find Indian and Sri Lankan cuisine here as well as tasty seafood dishes. Imported lamb (Australian) and chicken (Singaporean) is also on the menu. Full bar with cold beer and one dollar shots. Free drink or snack with each dish ordered. Takeaway, breakfasts and lunches are offered. Very clean kitchen and clean purified ice.
andnbsp;
andnbsp;Rheaj's Burger House: (tel: 012-333361)
Friendly riverfront restaurant serving western and Khmer dishes. Western breakfasts, burgers, pizzas, BBQ, seafood, desserts, fruit juices and shakes. Full Bar. Indoor and curbside seating.
andnbsp;
Jasmine: (tel: 012-927313)
That's a popular, stylish, welcoming riverfront cafe serving a good selection of western and some Asian dishes. Indoor and curbside seating with a very nice river view. Great place to enjoy sunset over a glass of wine and have a good, reasonably price western meal. Lots of books and magazines. Wifi wireless is available.
andnbsp;
Bokor Mountain Lodge: (tel: 033-932314)
Lovely old French Colonial-era building in a perfect sunset location on the riverfront road. Serving a variety of Khmer and some western dishes. They serve Italian, Thai, and burgers, specializing in fresh crab dishes. Weekend BBQs. Pizzas. Equipped with a full bar with cold beer, wine and cocktails and coffee facilities. Wonderful curbside seating overlooking the river.
andnbsp;
Western managed. Rikitikitavi: (tel: 012-274820)
Lovely rooftop restaurant and bar with a gorgeous view overlooking the river. Serving a wide selection of western dishes prepared by a professional chef. Full bar with cocktails, cold beer and a selection of wine.
Related Article