Sam Veasna Center For Wildlife Conservation (SVC)
Who we are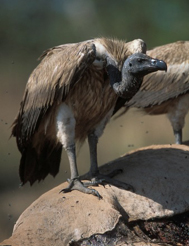 Sam Veasna Center for Wildlife Conservation (SVC) is a registered Cambodian non-profit, non-governmental organization. The aim of SVC is to serve as a focal point for conservation initiatives in northwestern Cambodia.
The Center was established in 2003 in memory of Sam Veasna, a pioneering Cambodian conservationist whose work led to the rediscovery and protection of the highly endangered bird, the Bengal Florican. He also discovered the presence of Sarus Crane in extensive wet grassland site in the province of Banteay Meanchey.
Veasna dreamt of building a of ocenter to promote the conservation of wildlife. However, he succumbed to cerebral malaria at the age of 33 after contracting it during fieldwork in December 1999.
What we do
We hope to fulfill our ambitions through raising awareness of Cambodia's rich wildlife heritage and facilitating activities that promote wildlife conservation. In conjunction with our program to train English-speaking Cambodian birding guides, we are promoting Cambodia as a destination for birding/conservation tourism.
In addition, through our Conservation Contribution fund, SVC is committed to fulfilling the objectives of ecotourism: long-term environmental, socio-cultural and economic sustainability.
SVC specializes in arranging birding tours to remote areas of Cambodia to see rare birds. We are also working with Wildlife Conservation Society (WCS), relevant government agencies and local villages.
The objective is for families in remote villages make their income through ecotourism, eventually replacing traditional livelihoods of hunting wildlife, habitat conversion and rice growing, all of which threatened the existence of the birds.
What you can experience
• Tours lasting from one day to two weeks can be arranged through SVC.
• The options range from a 4-day, 3-night stay at Tmatboey, an isolated village located in Kulen Promtep Wildlife Sanctuary in the Northern Plains of Cambodia and home to the critically endangered Ibis species, to an overnight stay at the Florican Grassland Sites, which harbor the largest known population of Bengal Florican in Cambodia and possibly the world.
• How about a 3-day, 2-night stay at Chhep Vulture 'Restaurant' where vultures are fed?' The remote site with basic accommodation facilities boasts three resident species including the Critically Endangered White-rumped Vulture Gyps bengalensis. The use of veterinary drug diclofenac has reduced the vulture population by more than 97% in South Asia. The only remaining breeding populations outside of South Asia are in Cambodia and Myanmar.
• Sam Veasna Center is centrally located in Siem Reap, at #0552, Group 12, Wat Bo (100 meters past Angkor Village Hotel). Tours can be booked at our office, via email or through our website. A calendar of booked trips can be found on our website.

Contact us:
Tel: +855 (0)63 761 597; +855 (0)12 520 828
E-mail: [email protected]
Web: www.samveasna.org

Sourced: Stay Another Day